Company profile
Mission
ABC-Info offers high quality IT services to a wide range of clients. Those who request our services can expect to receive concrete support for their organizational, management and information flow needs. "To professionally fulfill our customers requirements" is the approach and philosophy of ABC-Info.
Our specializations
Moving with confidence and precision into the vast IT world and its applications is a characteristic of ABC-Info. The competence of our Consultants allows us to offer computer science services to both public and private institutions such as local and regional Administrations, Industries, Banks and Insurance Companies. ABC-Info offers itself as a support for the research, the selection and the acquisition of technology for industrial and non-industrial applications. Through installation and interfacement the company creates the required link between information flow and productive entities. Following is a list of services offered by ABC-Info:
Systems analysis & development
Project management and administration
Data acquisition and analysis systems development
IT consulting and training
Technology transfer support
Networks and Internet technologies
Hardware and Software installation
Outsourcing
Consulting approach
Thanks to a multidisciplinary knowledge, ABC-Info offers a concrete quality service through a target-focused, detailed and precise analysis. Meanwhile, through constant research and continuous update and development of its consultants skills, ABC-INFO is always up to date and proposes itself as a competent business partner into the complex IT world.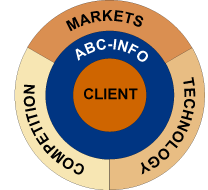 Company Organization
ABC-INFO was founded in 1995 to answer the growing demand of high quality services in IT field.
The motivation of all consultants is guaranteed by their personal active involvement in the company management. Multidisciplinary specializations, flexibility and world wide vision, simply characterizes the experience of ABC-INFO consultants.